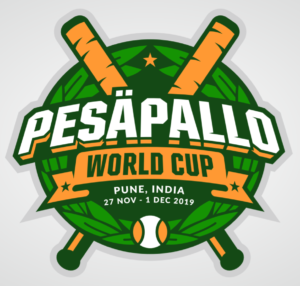 See in English below.
Pesäpallon 10. World Cup -turnaus pelataan Intian Punessa 27.11.-1.12.2019
Suomen kansallispeli pesäpallo kansainvälistyy hyvää vauhtia. Globalisoitumisen seuraavaa askelta todistetaan ensimmäisen kerran Aasiassa järjestettävässä lajin World Cup-turnauksessa ensi vuonna. 10. juhlaturnauksen järjestelyoikeudet on myönnetty Intiaan, jossa turnaus pelataan Punen kaupungissa 27.11.-1.12.2019.
Pesäpallon tarina Intiassa on ainutlaatuinen. Hankkeen puuhamies Chetan Pagawad löysi internetistä pesäpalloaiheisia videoita ja kiinnostui lajista. Tuumasta ryhdyttiin toimeen Suomesta saatujen neuvojen avulla. Tätä nykyä Intiassa pelataan aktiivisesti pesäpalloa ja laji on levinnyt jopa naapurimaihin saakka.
– Tavoitteena on järjestää onnistunut World Cup -turnaus 2019 Punessa ja saada mukaan useita Aasian maita, kuten Bangladesh, Bhutan, Malesia, Nepal, Sri Lanka ja Thaimaa. Intian joukkueen toivon haastavan jo Suomen kaikissa sarjoissa. World Cup on tärkeä tapahtuma, jonka myötä voimme levittää peliä eteenpäin ruohonjuuritasolla, Pagawad näkee.
Aiemmin pesäpallon World Cup -turnauksiin on osallistunut joukkueita Suomen lisäksi Australiasta, Japanista, Ruotsista, Saksasta, Sveitsistä ja Virosta sekä viime vuonna ensi kertaa Intiasta ja Yhdysvalloista. Suomesta katsottuna pesäpallon maailmanvalloitus kuulostaa paikoin uskomattomalta.
– Tietoliikenneyhteydet lähentävät maailman kansoja toisiinsa, vaikka maantieteellistä etäisyyttä olisikin. Pesäpallolla on tässä iso ja historiallinen mahdollisuus, vaikka työtä on toki tehtävänä myös kotimaassa. World Cup -turnaus on takuulla mielenkiintoinen kokemus kaikille osallistujille, Jussi Pyysalo Pesäpalloliitosta toteaa.
Pesäpallo World Cup -turnausten historia käynnistyi Helsingin Kaisaniemestä 1992. Tämän jälkeen on pelattu Hyvinkäällä 1997, Australian Melbournessa 2000, Ruotsin Södertäljessä 2003, Saksan Münchenissä 2006, Porissa 2009, Australian Gold Coast´lla 2012, Sveitsin Luzernissa 2015 ja Turussa 2017. Intian Pune on vuorossa 27.11.-1.12.2019 ja pesäpallon 100-vuotisjuhlien kunniaksi turnaus tekee paluun Hyvinkäälle 2022.
Suomi on toistaiseksi voittanut kaikki mestaruudet, mutta haastajien innokkuus lisääntyy vuosi vuodelta.
– Pesäpallolla on erinomainen tulevaisuus Intiassa. Toivoisimme, että voisimme saada tulevaisuudessa aikaan kansainvälisen pesäpallon kilpasarjan, Pagawad heittää.
– Pesäpallon leviäminen Aasiassa on ollut hämmästyttävää ja mielenkiinto on Chetan Pagawadin kautta herännyt jopa Afrikassa, Tansaniassa. Turussa teimme World-Cup-turnausten ennätyksen, kun mukana oli joukkueita seitsemästä maasta. Siltä näyttää, että ennätykset rikotaan jälleen, Pyysalo uskoo.
Intia ja Pune ovat eksoottisia matkakohteita, joissa riittää mielenkiintoista nähtävää ja koettavaa niin kokeneemmalle matkailijalle kuin vähemmän maailmaa kiertäneelle turistille.
– Punella on mielenkiintoinen historiallinen tausta. Kaupunkia ympäröivät kukkulat ja siellä on useita mielenkiintoisia nähtävyyksiä. Eurooppalaiseen makuun ilmastokin on hieman leudompi, Pagawad arvelee.
– Nyt World Cup -turnaus pelataan Suomen kilpailukauden ulkopuolella, joten koko suomalaisellakin pesisväellä on erinomainen mahdollisuus lähteä mukaan kokemaan jotain uutta ja hämmästyttävää, Pyysalo päättää.
Lisätietoa:
Chetan Pagawad, +91 90298 12858
Jussi Pyysalo, +358 400 789 328
---
Pune, India will host the 10th Pesäpallo World Cup tournament 27.11.-1.12.2019
Finnish national game pesäpallo is rapidly getting international. Next level will be reached next year when Pesäpallo World Cup tournament will be played first time in Asia. Pesäpallo association of India will host the tournament in Pune, India from November 27th until December 1st.
History of pesäpallo in India is unique. Founder and organizer of pesäpallo in India Chetan Pagawad came across videos in the YouTube and got interested in the game. Words became deeds and consultant advices were given from Finland to help to launch a new sport. Nowadays pesäpallo activities have even spread from India to neighboring countries.
– Our aim is to organize successful World Cup Tournament in Pune, India 2019 and have participating teams from many Asian countries like Bangladesh, Bhutan, Malaysia, Nepal, Sri Lanka and Thailand. I wish Indian team will challenge Finnish teams in all series. World Cup Tournament is an important event which helps us to spread the the game at grassroot level, Chetan Pagawad says.
Teams from Australia, Estonia, Finland, Germany, Japan, Sweden and Switzerland have participated in the Pesäpallo World Cup tournaments earlier as well as Team India and Team United States which were newcomers in Turku, Finland 2017. Finnish national sport has rapidly become international.
– Data communications and networks bring nations from all over the world closer to each other even though there may be long geographical distances. It means that pesäpallo has now a big and historical opportunity to achieve success globally too, not forgetting to put efforts on the activities in Finland. World Cup tournament is certainly an interesting experience to all participants, Jussi Pyysalo from Pesäpallo Association in Finland says.
History of pesäpallo World Cup tournaments began in Helsinki 1992. The tournament has also been host by Hyvinkää (Finland) 1997, Melbourne (Australia) 2000, Södertälje (Sweden) 2003, Munich (Germany) 2006, Pori (Finland) 2009, Gold Coast (Australia) 2012, Lucerne (Switzerland) 2015 and Turku (Finland) 2017. Next tournaments will take place in Pune, India from November 27th until December 1st and in Hyvinkää, Finland 2022 as part of Pesäpallo 100 years festivities.
So far Finland has won all the championships, but other nations are challenging with growing enthusiasm.
– Pesäpallo has a bright future in India. We wish we could launch an international competitive series in the future, Pagawad suggests.
– It has been astonishing to notice how Finnish pesäpallo has spread in Asia in a short time. Interest has even been awakened in Africa, Tanzania. The all-time record of Pesäpallo World Cup tournaments was reached in Turku, 2017 where teams from seven different countries participated in the tournament. I think we have now a very good chance to break the record again, Pyysalo says.
India and Pune are exotic travel destinations for both experienced travelers and beginners. There are plenty of attractions to see and explore.
– Pune has an interesting historical background. It´s surrounded by scenic hills and there are many attractions for travelers. Thinking about Europeans climate is also milder, Pagawad says.
– The World Cup is now played during the off-season in Finland so Finnish pesäpallo enthusiasts have a great chance to attend the tournament ja experience something extraordinary and amazing, Pyysalo concludes.
More information:
Chetan Pagawad, +91 90298 12858
Jussi Pyysalo, +358 400 789 328